11.12.20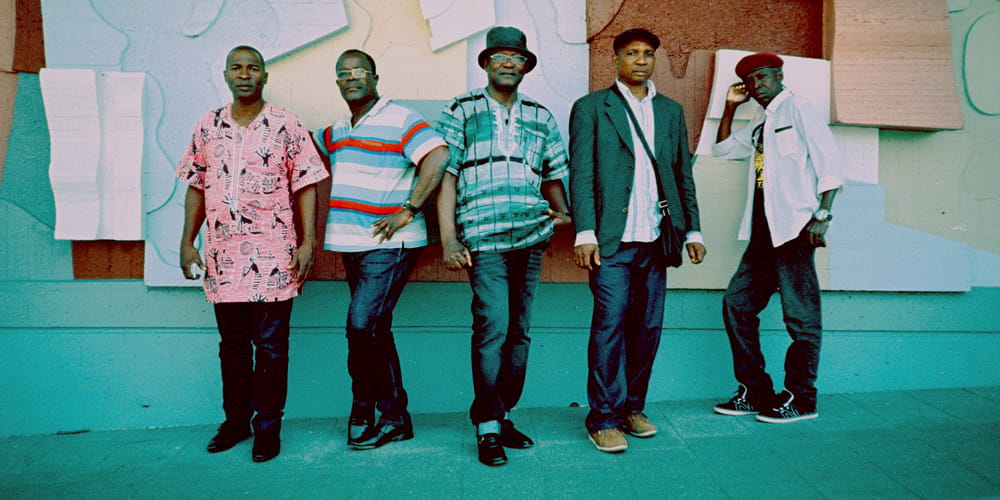 El Volcan & Tropical Timewarp present
AFRICA NEGRA

(São Tomé) 11.12.20 in Berlin, YAAM Club
Tickets zu AFRICA NEGRA
Berlin
---
Informationen
El Volcan & Tropical Timewarp präsentieren eine Nacht voll tropischer Sounds am Spreeufer: Cumbia - Soukous - Salsa - Afro Latin mit Africa Negra (São Tomé) live!
Conjunto África Negra (live)
Edna Martinez (El Volcán - Picó Soundsystem / LatinArab)
Dj Nomad (El Volcán - Picó Soundsystem / Africaine 808)
The Soulvendor (Tropical Timewarp/ Radio Djan Djan)
The picó, an iconic symbol of the Colombian Caribbean culture, is a powerful sound system composed of a console, amplifiers and Due to their rise in popularity around that time, Picós have a strong relationship with popular music from the 1970s and 1980s - in particular in West and Central African music styles, but nowadays the propensity for innovation through modern digital production is very strong in Colombia as well. The Picó crowds and producers consume and reproduce everything from Soca, Zouk,Mbaqanga, Vallenato, Salsa, Dancehall, Soukous, contemporary Nigerian pop, Champeta - incorporating their own indigenous African rhythms, language and cultural understanding in a beautiful and diverse musical stew. The recordcollectors and musical librarians Dj Nomad (Berlin) and Edna Martinez (Cartagena de Indias) put together their experience and excitement in this music and culture to create the first authentic Berlin Pico party, with: "El Volcán - El Orgullo de Berlín".They share their selection and invite the best Dj's of the scene. Aesthetics as well as food and dance, are all ingredients for an unforgetable experience. Welcome to 'EL VOLCAN' - Berlin's own Picó Party!
Africa Negra sind die unumstrittenen musikalischen Botschafter des kleinen Inselstaates São Tomé and Príncipe im Golf von Guinea. Ihr einzigartiger Sound aus kongolesischem Soukous & Rumba, ghanaischem Highlife und Kap verdischen Musikstilen wird in fast allen portugisischsprachigen Ländern West Afrikas verehrt & ihr solltet dieses Konzert auf keinen Fall verpassen!
Edna Martinez grew up in Cartagena de Indias, in the colombian caribbean which influence her musical selection: Sounds from across Africa, the Caribbean, Tropical grooves, Latin organic rythms and even Arabic folklore. She is the woman behind "LatinArab", a regular night at YAAM Berlin and musical journey from Alexandría to Cartagena de Indias, "El Volcán" a Colombian Soundsytem night and only picó event of the city with Dj Nomad. "Prende la Vela" which combines documentary films with folclor live musical acts, and recently she launched "Flora: diasporic sounds from across Africa, Latin America & the Caribbean." She is also a lover of records and dancing.
https://soundcloud.com/ednamartinezdj
NOMAD grew up with a mix of youth cultures in the 70's and 80's. For over 20 years since he has explored various styles of music as a Dj , as well as a producer.He has shared turntables with a variety of musical legends from his personal Mentor and friend- Italian Afro Disco Creator Beppe Loda to Drum+ Bass Don Grooverider or Techno + House legends like Jeff Mills or Dj Traxx.
Nomad does not categorize music , but always expresses love for Polyrythms and the African drums and Percussion.
He enjoys mixing modern Electronic dancemusic with Tropical sounds and African, Latin and Afro grooves. From Modern Soul and Afro Rock styles over classic Afrofunk to Percussive House ,Gwo Ka, Cumbia, Soukousse, Shangaan or Samba among other forms. He's one of the biggest collectors of African and Tropical Dancemusic in Europe, and a worldwide reknown expert on West African as well as Southafrican Soul, Funk and Disco.
https://soundcloud.com/nomad-one
The Soulvendor (Tropical Timewarp/ Radio Djan Djan)
Active as a Dj for almost a decade The Soulvendor is an integral part of Berlins tropical music scene. For his research about music he's travelling all around the globe collecting sounds, music & networking with musical activistst from many countries. His selections will take you deeper into the music from West Africa as well as into the more experimental global music of tomorrow.
https://soundcloud.com/the-soulvendor
https://soundcloud.com/tropical-timewarp