03.10.21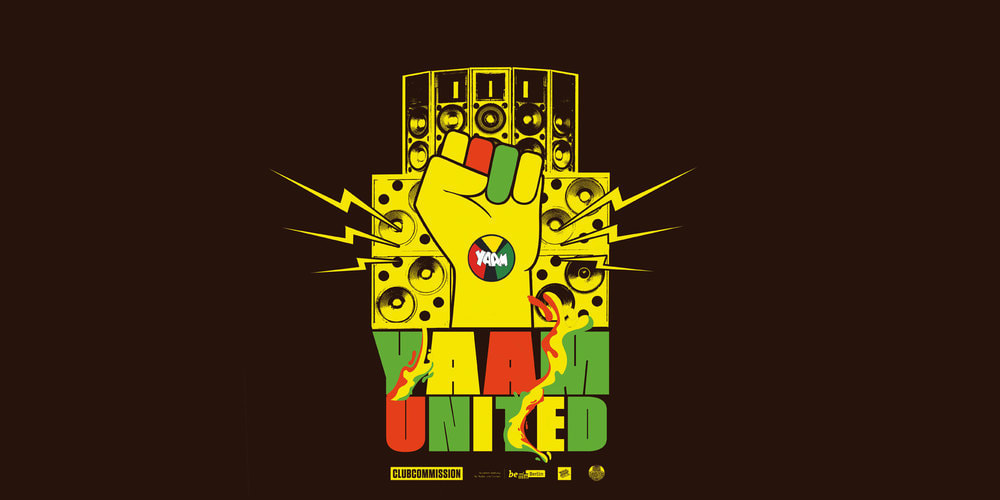 YAAM UNITED

TAG DER CLUBKULTUR / YAAM Berlin 03.10.21 in Berlin, YAAM Club
Tickets zu YAAM UNITED
Berlin
---
Informationen
Der TAG DER CLUBKULTUR wird als Preis und Zeichen der Wertschätzung für die Szene in diesem Jahr erneut stattfinden. Nach der Zeit der Pause und des Umbruchs bietet der TAG DER CLUBKULTUR auch 2021 Clubs und Kollektiven der Stadt Gelegenheit dazu, gemeinsam die Clubkultur von morgen zu denken.Das YAAM steht seit mittlerweile 25 Jahren für Diversität und Austausch zwischen der vielfältigen Landschaft der Subkulturen. Zum Tag der Einheit erklingt die womöglich letzte Party im YAAM für eine unbestimmte Zeit. Aufgrund einer Nutzungsuntersagung durch die Bauaufsicht darf das YAAM Gebäude bis zu dessen Sanierung und der Sanierung der YAAM Uferwand nicht öffentlich genutzt werden. Das zwingt uns leider dazu, den Veranstaltungsbetrieb nach dem Sommer weitestgehend runterzufahren und uns für die nächsten Jahre auf die Entwicklung und Finanzierung einer umfassenden Geländesanierung zu konzentrieren.Einheit und Zusammenhalt ist damit gefragter denn je. So setzen wir fort was mit dem letzten Tag der Clubkultur angefangen wurde:Unter dem Motto YAAM United werden wir uns selbst feiern, reflektieren und mit langjährigen Wegbegleiter:innen und neuen Freund:innen auf & vor der Bühne feiern!
::::::::::::::::::::::::::::::::::::::::::::::::::::::::::::::::::LINE UP::::::::::::::::::::::::::::::::::::::::::::::::::::::::::::::::
<<<<<< Through the mighty I-Revelation Soundsystem >>>>>>

Freak de'l Afrique
Barney Millah
MuK (I Revelation Soundsystem)
Roots Daughtes
SLIMGIRL FAT (Slic Unit)
Figub Brazlevič
Bony Selektor (Sonido Los Cariños)
Hotta Henne & Tonto Addi (live)
YUNUS (Berlin Soundsystem)
SENU (Slic Unit)
Lady's Choice
JAYROE (The Smells)

Freak de'l Afrique
Freak de l'Afrique is a Berlin based collective wich has a common passion for Africas modern club sounds. After hosting the collective many times we're happy they'll join us for our the last dance in 2021 - Get ready!
https://www.freakdelafrique.com/
https://soundcloud.com/freakdelafrique

Barney Millah
YAAM Resident, Dj legend & friend - Barney Millah can certainly be counted among the founders of the Berlin reggae scene. Each set is unique. The DJ brings together what belongs on the dancefloor with a perfection that is second to none. Prepare yourself for Berlins Reggae Ambassador!
https://soundcloud.com/barneymillah

Roots Daughters
Omega Vibes uplifiting the Souls - Message Music liberating the minds! The Dj collective is became one of our resident Dj's & not without reason. Roots - Reggae & Dub from the heart, straight to the dance floor.
https://soundcloud.com/roots-daughters

FATGIRL SLIM (Slic Unit)
Singer, Producer and DJ slimgirl fat loves to blur genre conventions of all kinds. Not only in her own music but also on the decks. Her favorite tunes aim to have a special, vexing, and emotional momentum. Her sound collection reaches from contemporary Pop, Hip-Hop, UK Jungle & Hardcore to Dancehall and Reggaeton. "Disorienting, dystopian, delicious."
https://soundcloud.com/slimgirlfat
https://soundcloud.com/slicunit

Hotta Henne & Tonto Addi (live)
Berlin based Dj Hotta Henne & Paris born Tonto Addi joined forces to take you back to the sweet days of classic Rub-A-Dub Dances; when deep reggae music and easy early dancehall - Live MC!
https://soundcloud.com/teamrubadubberlin

SENU (Slic Unit)
Drawing from the musical and cultural richness of the Black Atlantic, SENU is continuously falling in love with old and new sounds from Africa, the Americas and from urban spaces of multiple diasporas. Being embedded in Berlin's diversity of genres, influences and expressions, her eclectic sets are always evolving – no set is the same but heavy basslines and polyrhythmic arrangements are spinning the threads between Kuduro, Gquom, Afro Beats, Baile Funk, Rap, and whatever enriches her up-tempo set.
https://soundcloud.com/senusound
https://soundcloud.com/slicunit

Figub Brazlevič
CEO and Founder of Krekpek Records, 1 / 3 of Man Of Booom - Olschool Future
East-West Sessions, Booth Brothers & Sisters, Neck-Cliché Radio
https://soundcloud.com/figubbrazlevic

Bony Selektor
Mexico born & Berlin based Dj and driving force behind legendary Sonido Los Cariños became part of the YAAM family some years ago. His unique selections between Cumbia, Dub & Roots music are one og a kind! https://soundcloud.com/selektor-bony

MuK & Yunus (I-Revelation)
The founders and operators of the I-Revelation Soundsystem Muk & Yunus must not be absent from this great celebration! The two long-time companions & friends of the YAAM will not only delight us with solid music but will also finally set up the I-Revelation Soundsystem/ Berlin Soundsystem at the YAAM again after many years - are you ready?
https://soundcloud.com/i-revelation-soundsystem
https://www.soundsystem.berlin/

Ladys Choice
consisting of Tausi & Sandra are Berlin's first female Reggae dj collective and have been active since the late 1990's. Their selection of Roots & Early Dancehall has influenced generations to come & still makes you shake your hips today!

JAYROE (The Smells)
Active in the Berlin scene for many years, the DJ works with MC Bomber and Dj Illo, among others. 90's Hip Hop is his hobbyhorse and he stands for it with the finest dj sets - Hooray!
http://www.blockparty.berlin
tbc.